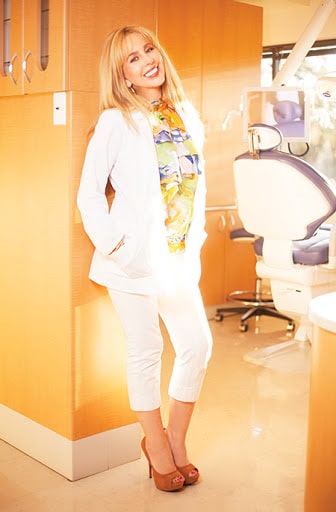 Graduated from Universidad Del Valle in Colombia, South America, Dr. Alvarez has been practicing family and cosmetic dentistry for over 17 years. She is an active member of the American Dental Association (ADA), the California Dental Association (CDA), the Orange County Dental Society (OCDS) and the American Academy of Cosmetic Dentistry (AACD). Dr. Alvarez attends different dental workshops on a regular basis and has advanced training in fields such as Soft Tissue Management (STM), Endodontics and Cosmetic and Aesthetic Dentistry. Dr. Alvarez is also certified in Invisalign (Orthodontic treatment without wires) and Lumineers (Porcelain Veneers).
Her hobbies include attending as many dental workshops and courses as possible in the fields of Cosmetic Dentistry, and reading and investigating the latest developments in Dental Technology. She also enjoys traveling, especially to her hometown of Cali in beautiful Colombia, South America. She has two young daughters who bring the most happiness to her life as a person and as a professional because they are her best two patients!!!
Dr. Alvarez also has a passion for educating the community about dentistry. Since 2009, she's been broadcasting two live radio shows a week that helps the community learn more about dental care and how to feel comfortable walking into a dental office. Her live radio shows air on W Radio 690 AM (Thursdays at 1:30 pm) and on
https://www.radiozion.net/
(Fridays at 11:00 am).
Your Mission Viejo cosmetic dentist, Dr. Martha Alvarez, and her hand-crafted professional team members will help you create the smile of your dreams.
Dr. Yigal Prilutsky (a.k.a., Dr. P) is a graduate of Tufts University School of Dental Medicine in Boston, Massachusetts, where he earned his Doctor of Dental Medicine (DMD) degree in 2001. He then continued his training at the prestigious Cedars-Sinai Medical Center in Los Angeles, California as a resident. His extensive training, clinical expertise, and compassionate and caring nature have made him a top choice with patients.
Dr. Prilutsky knows that education does not end when one graduates. Technology and methods continually improve. Therefore, his never-ending quest for knowledge and improvement leads Dr. P to seek continuing education beyond the minimum number of hours mandated by the California Dental Board.
Additionally, patients routinely comment about Dr. P's sense of humor, which helps them relax and feel more comfortable.
When not practicing dentistry, Dr. Prilutsky enjoys spending time with his beautiful wife and 2 daughters, cooking, reading, exercising, martial arts, and playing his classical guitar and piano. And yes, Dr. P finds time to watch TV too, but it has to be the History Channel!
Dr. Prilutsky is a member of:
American Dental Association
California Dental Association
Los Angeles Dental Society
Academy of General Dentistry
American Academy of Dental Sleep Medicine
American Academy of Sleep Medicine
Dr. Lee
Dr. K.C. Lee, DDS
Curriculum Vitae
•
Doctor of Dental Surgery – School of Dental Medicine Case Western Reserve
University 2002
•
Master of Art – Behavioral Science
California State University, Dominguez Hills 1997
•
Bachelor of Science Degree – Biology University of California,
Los Angeles (UCLA) 1995
•
Internship in Oral and Maxillofacial Surgery from Ohio State University Medical Center 2011
•
Fellow of International Congress of Oral Implantologists
•
Fellow of Misch International Implant Institute
•
Member of International Congress of Oral Implantologists
•
Certification in Intravenous Sedation by Ohio State University Oral and Maxillofacial Anesthesiology Department
•
Certification in Surgical and Prosthetics by Nobel Biocare
•
Certification in Surgical and Prosthetics by Biohorizon
•
Certification in Invisalign by Align Technology, Inc.
•
Member of American Orthodontic Society
•
Member of American Dental Association
•
Member of California Dental Association
•
Member of Harbor Dental Society
Dr. Carlos Leon is a dentist with a master degree in Orthodontics and Dentofacial Orthopedics. He received both degrees in his native Colombia.
After successfully taking the national dental boards and California boards he stablished his practice in southern California. Dr. Leon lives in the city of Irvine with his wife and two daughters. His practice is limited to Orthodontics and Dentofacial Orthopedics in which he has 20 years' experience. He keeps up with the latest technology and products by attending seminars through the year. He enjoys traveling, dancing and mountain biking, his other passion besides Orthodontics. He has enjoyed biking in California, Nevada, Florida (yes there are excellent trails in Florida for mountain bike), France, Spain, Italy and most recently England.
Our Ongoing Commitment to Excellence
---
Your Mission Viejo cosmetic dentist, Dr. Martha Alvarez, and her hand-crafted professional team members will help you create the smile of your dreams. Our welcoming, caring and diverse dentists are here to fit all of your dental needs, and we encourage you to read more about them below.
Don't forget to
contact our office
at
(949) 455-9480
to schedule your visit with one of our educated and experienced dentists. If you're looking to receive a specific
dental service
and want to know which doctor is best suited for your smile, we'll be happy to schedule a consultation, so you'll have time to sit down and create both a professional and personal relationship with your Mission Viejo dentist.
Be your trusted Mission Viejo dentist
Educate ourselfs and continue to learn
Use modern, efficient dental equiptment
Push our professional team to be the best
Attaining the smile you've always wanted is as important to you as it is to us, and helping you affordably achieve that smile is our main goal. Our qualified financial team will do everything to ensure that expense does not prevent you from receiving the quality care you need and desire. Please contact our friendly staff to learn more about Insurance & Billing.
With professional dental services, a comfortable environment, and welcoming care, our team want to help you make those remarkable moments in your life shine brighter with your smile.
Flexible Financing Options
---
Our qualified financial team will do all it can to make sure that expense does not prevent you from receiving the quality care you need and desire. We have developed different financial options to help you facilitate your goals.
We serve the great people of Mission Viejo and Orange County. We look forward to providing you with the professional, progressive dental care and customer service our patients have come to expect.
At Dentist 4U we love our patients. We are grateful to have such awesome patients who have taken time to share their experiences on Google, Facebook, and other online sources.
"Dr. Alvarez and her staff were very professional. They made my appointment super easy and convenient..."
Faisury O.
Review on Google
"Hands down the best dental experience! as soon as I walked in the office I felt at home, they greet you with a smile and a great attitude."
MJ.
Review on Google
"Today I had an appointment with Dr. Alvarez and I must say it was a wonderful painless experience. Dr and staff did an amazing job explaining all my needs and answered all my questions asked..."
Angela A.
Review on Google
Contact Your Dentist in Mission Viejo Today!
---
Monday: 9:00am - 6:00pm
Tuesday: 9:00am - 6:00pm
Wednesday: 9:00am - 6:00pm
Thursday: 9:00am - 6:00pm
Friday: 8:00am - 4:00pm
Saturday: 8:00am - 4:00pm
Sunday: Closed